One frustrated traveler in the U.K. recently took to Twitter to call out an elderly couple who allegedly refused to move from seats assigned for the woman — who is 6 months pregnant — and her three children during a recent train trip.
"Don't be these people," the author warned in a post that has since gone viral with over 8,000 shares to date, although the mom has since admitted that she never thought her message would go as far and wide as it has.
AIRPORT SECURITY FINDS COUPLE'S CAT STOWED AWAY IN THEIR LUGGAGE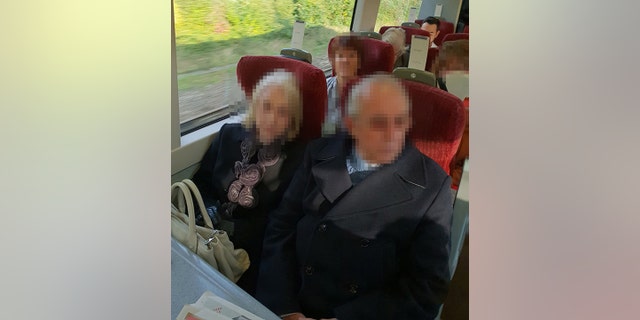 "Don't be these people," the author warned on Twitter, in a post that has since gone viral with over 8,000 shares to date.
(Amanda Mancino-Williams)
On Oct. 22, Amanda Mancino-Williams shared her side of the story in a Twitter post that has since received over 33,000 likes and 3,000 comments as of Friday morning.
"If a mum with 3 kids and bags has 4 reserved seats for a long train journey, and you're sitting in their seats on a full carriage, don't tell them that their tickets don't matter in a posh voice and then say you're not moving and refuse to make eye contact," Mancino-Williams wrote.
"Don't be these people," she added.
CLICK HERE TO SIGN UP FOR OUR LIFESTYLE NEWSLETTER
The 37-year-old woman and her children were traveling on a full CrossCountry train from Cheltenham to Nottingham, a journey of over 100 miles, The Sun reports.
Mancino-Williams updated followers with a photo of her kids crammed into the two remaining seats she says she booked, detailing that her 12-year-old stared down the rude woman. Soon after, the mom spoke to a conductor who was "calm, lovely, and apologetic" and managed to relocate the family to seats in first class.
Though appreciated, Mancino-Williams argued that the issue never should have happened in the first place.
"I would always give up a seat, reserved or not, for someone [who] needed it more. But for her to tell me that my tickets meant nothing and then refuse to acknowledge me? Do people just expect you to slink away?" she wrote.
"I'm already being told off for posting a picture over an 'everyday occurrence'. But isn't that the point?" she wondered. "It only continues to be an everyday occurrence as long as people don't get called out for their pathetic behavior. I'm sick of protecting a——s."
CLICK HERE TO GET THE FOX NEWS APP
Many commenters applauded Mancino-Williams' post, and agreed that the rumored seat-stealers were the ones in the wrong.
"Wow, had no idea this would blow up in the way it has. I've been getting requests for statements and just wanted to say a few things," the author followed up. "This situation is not about my children not having manners enough to stand for the elderly. This is about a culture of bullying and entitlement."
FOLLOW US ON FACEBOOK FOR MORE FOX LIFESTYLE NEWS
In an interview published Wednesday, the mom told The Sun that she would have given the couple their seats if they provided a legitimate reason why they needed them.
"Her instant dismissiveness of me and the children told me all I needed to know about her. I didn't feel it was my responsibility to acquiesce to that kind of behavior," Mancino-Williams said. "I was shocked and tired. Any mother who travels with bags and children knows how your mind is in a thousand places, so things like reserved seats are something you count on."
When reached for comment, a spokesperson for CrossCountry offered Fox News the following statement:
"We always encourage customers to reserve a seat so they can be confident of a relaxing journey. Clearly, we would expect any customer who sees a seat is reserved to respect that someone has taken the trouble to plan ahead, and to find themselves an alternative place," a representative said. "If they just need a little help then a chat with the train crew would see them assisted to any vacant seat."
"Our onboard teams are trained to help all customers, and if someone is sitting in another customer's reserved seat they will ask them to move and offer to help them find an empty seat elsewhere in the train," the representative continued. "However, sometimes it can be less confrontational in a busy train carriage to offer help to the original customer to find alternative seating if they are willing, which in this case they did by giving them a free upgrade to First Class."