As his struggling campaign seeks a big win in Michigan's Tuesday primary, Bernie Sanders took the stage at a Fox News Town Hall in Detroit and wasted little time in dismissing front-runner Joe Biden as a friend to "crooks" — and former rival Hillary Clinton as a bitter ex-candidate stuck in the past.
"I always give this guy a hard time," Sanders joked at the outset, referring to Fox News Channel anchor Bret Baier, who was hosting the town hall alongside Martha MacCallum. "This is going to be fun tonight," Baier responded.
Within minutes, Sanders took aim at the former vice president, saying Biden had "bailed out the crooks on Wall Street who nearly destroyed our economy 12 years ago." That $700 billion rescue plan also had the support of then-presidential candidates Barack Obama and John McCain.
Questioned about Biden's recent verbal gaffes and his broader competence, Sanders remarked, "I'm not here to criticize Joe, but to say that I think the American people at this incredibly complicated and difficult moment in our history, are entitled to thoughtful answers to the crises we face."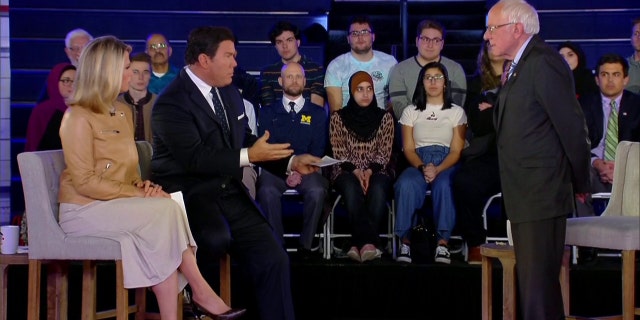 Fox News Channel anchors Bret Baier and Martha MacCallum question Sanders at the Fox News Town Hall on Monday in Detroit, Mich.
"I'm not gonna go to that level — that's for people to decide," Sanders added, when Baier presented video of Democrats criticizing the former vice president's mental fitness for elected office. "I'm not going to be making personal attacks on Joe."
Separately, prompted by a recent video clip of Clinton saying "nobody likes" Sanders and that he "didn't work until he was 41," Sanders responded: "Unlike Secretary Clinton, I don't want to relive 2016. We're in 2020 now."
"But, what I would say on a good day, is my wife likes me," Sanders said to applause. "But also, if you guys look at some of the polling they do for United States senators, in most cases I turn out to be the most popular senator in the country." (At the end of the town hall, in response to a question as to who his closest friend is in Washington, Sanders said, "My wife.")
Later, seeking to assure a voter from Russia that his brand of "democratic socialism" would not bring widespread poverty and despair to the United States, Sanders said he instead wanted a country more like Denmark, Finland and Sweden.
"What happened in the Soviet Union was not socialism, it was authoritarian communism," Sanders said as attendees cheered.
"I'm not an expert on the current economy in Sweden," Sanders responded later, when MacCallum noted that the country was pushing towards more deregulation and less taxes. "They have gone a long way to eliminate poverty, to make sure that all of their people have the basic needs that they need to live good lives."
Sanders said studies have shown that countries like Denmark are among the happiest on earth, because they provide various free services like college and health care. (Other studies, however, have showed that Denmark essentially free-rides heavily from U.S. capitalism, which produces far more startups and new business.)
Sanders also slammed President Trump's response to the coronavirus outbreak — and said that he would not consider closing the border, no matter what.
"If you had to, would you close down the borders?" Baier asked, referring to efforts to stop the spread of coronavirus.
"No," Sanders replied flatly.
He went on to condemn xenophobia and suggest that scientists would need to outline the appropriate approach.
Sanders also hit Trump's appointment of Vice President Mike Pence to lead the coronavirus task force and inaccurately claimed that Trump had advised Americans with the virus to head to work. In fact, Trump told Fox News "Hannity" that, empirically, some Americans are going to work with the virus and recovering without incident.
"Sadly, we have an administration in Washington that has shown the world that it does not believe in science," Sanders said, taking aim at the White House on issues from climate change to health care. "When you appoint Vice President Pence, an individual who also doesn't much believe in science, what you're telling the whole world is that you're politicizing this issue."
"I'm not an expert on the current economy in Sweden."

— Bernie Sanders
Baier pressed Sanders on the coronavirus response, saying that Trump has in fact appointed numerous experts to address the issue. Sanders responded by mocking Trump's claim to have a "natural ability" to address disasters.
"You listen to the scientists; you don't say stupid things," Sanders said. "You don't suggest to people they can go to work."
Sanders returned to his talking points about the wealthiest people not paying their "fair share" in taxes, leading MacCallum to probe whether Sanders would reconsider his policies given the ongoing stock market crisis.
SANDERS RELEASES DETAILS ON HOW HE'D PAY FOR MAJOR PROPOSALS — ARE THERE ISSUES?
"I will not become president until January, and the economic situation will be different then," Sanders said. As to what he would do if he were president today, Sanders said an "economic stimulus" could come in the form of "invest[ing] in working-class people in good-paying jobs by rebuiling our crumbling infrastructure — roads, bridges."
He added that "I'm not here to demonize anybody," after MacCallum pointed out that Bill Gates is contributing substantially to coronavirus efforts. At the same time, Sanders said, it was absurd to depend upon the "generosity" of billionaires.
Then, in a dramatic call-and-response moment with the audience at the town hall, Sanders established that Canada is not a socialist or communist system of government and yet manages to provide government-run health care at a minimal cost to patients.
The Vermont senator acknowledged that taxes would go up by 4 percent at a minimum to incomes over $29,000, in additional to more payroll taxes on employers and stock market transaction taxes, but asserted that "comprehensive" health care is worth it.
Sanders said he wanted a "modest" tax on "Wall Street speculation." The proposal, according to Sanders' campaign, specifically would place a "0.5 percent tax on stock trades – 50 cents on every $100 of stock – a 0.1 percent fee on bond trades, and a 0.005 percent fee on derivative trades."
Sanders' campaign has claimed that a "modest tax on Wall Street speculation … will raise an estimated $2.4 trillion over ten years" and, in one fell swoop, make all "public colleges, universities and trade schools tuition-free … and cancel all student debt over the next decade."
However, the National Review has likened a tax on so-called "Wall Street speculation" to a de facto tax on savings, saying the Sanders plan is untested and "would mean paying $25 to the federal government every time you traded $5,000 worth of stock — or five times what you'd pay the typical online brokerage in fees. … Over the long term, that imposes serious costs on actively traded funds such as the ones containing many Americans' retirement funds."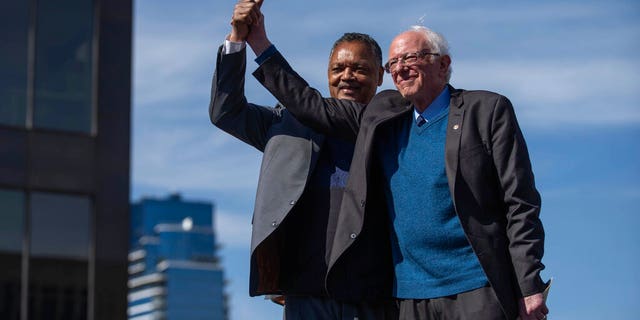 Sen. Bernie Sanders and Rev. Jesse Jackson wave to the crowd at a rally for Sanders at Calder Plaza in Grand Rapids, Michigan on Sunday, March 8, 2020. Michigan's presidential primary is Tuesday. (Anntaninna Biondo/The Grand Rapids Press via AP)
At the town hall, Sanders alluded to a disputed Yale University study to argue that "Medicare-for-all" would save money largely by cutting down on administrative costs. Other nonpartisan estimates have put the cost of Sanders' "Medicare-for-all" proposal at over $32 trillion.
Baier and MacCallum moderated Sanders' second Fox News Town Hall of the election cycle. At last April's event, a combative Sanders made no apologizes for his wealth, and acknowledged that his plans would lead to tax hikes for many Americans.
Idaho, Mississippi, Missouri, North Dakota and Washington will also hold primaries on Tuesday, and a combined 352 delegates will be at stake. Michigan's 125 pledged delegates are perhaps the day's biggest prize and offer Sanders an opportunity to cut down front-runner Joe Biden's current 91-delegate lead.
SANDERS HIRES ADVISOR WHO BLAMED AMERICA FOR 9/11
Sanders won the Michigan primary over Hillary Clinton in 2016 after taking a beating on Super Tuesday, but this year, surveys show him down by as many as two-dozen points. Biden tops Sanders 51 percent to 36 percent among likely Democratic presidential primary voters in Michigan, a Monmouth University survey released on Monday showed.
An outstanding question going into Tuesday is whether Massachusetts Sen. Elizabeth Warren, who dropped out of the race last week, will endorse Biden or Sanders. So far, she's declined to back either, an especially frustrating development for Sanders, who could use Warren's help in unifying progressives in much the same way Biden has been able to rally moderates.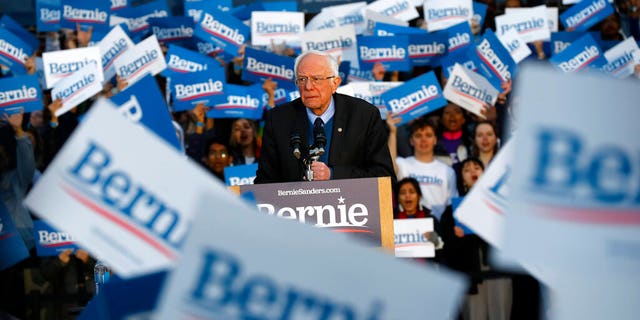 Democratic presidential candidate U.S. Sen. Bernie Sanders, I-Vt., speaks during a campaign rally at the University of Michigan in Ann Arbor, Mich., Sunday, March 8, 2020. (AP Photo/Paul Sancya)
Sanders has scoffed at suggestions he could drop out if he doesn't win Michigan, but his travel schedule underscores its importance. He canceled a trip to Mississippi and instead made five campaign stops across Michigan since Friday. And he was holding a roundtable in Detroit on Monday with health experts to discuss the spread of the new coronavirus.
Sanders has accused Biden of relying on billionaires to finance his campaign but also says he's now running against "the Democratic establishment." The senator told Fox News on Sunday that he'd win Michigan and repeated that at a rally in Grand Rapids, but he added the major caveat for supporters that he'd only pull it off "if we stick together, we bring our friends out to vote."
FLASHBACK: AT TESTY FNC TOWN HALL, SANDERS MAKES NO APOLOGIES FOR MAKING MILLIONS
Sanders won't say if he's personally lobbying Warren for her endorsement. He did manage to secure the backing of Jesse Jackson, who said it was no time for centrist compromise.
"With the exception of Native Americans, African-Americans are the people who are most behind socially and economically in the United States and our needs are not moderate," Jackson said at Sanders' Grand Rapids rally. "A people far behind cannot catch up choosing the most moderate path."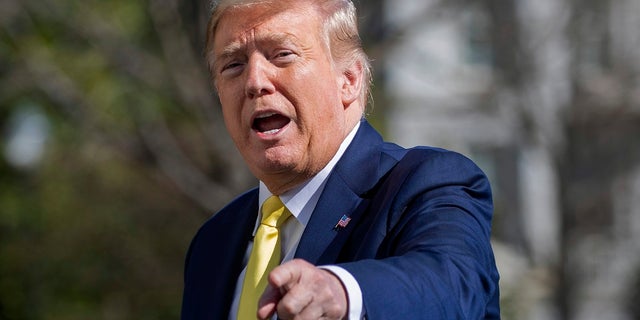 President Donald Trump gestures while walking on the South Lawn of the White House in Washington on Monday after stepping off Marine One. A "Women for Trump" bus tour has been canceled, the president's campaign said, citing scheduling conflicts. (AP Photo/Patrick Semansky)
Still, one of Sanders' highest-profile supporters, New York Rep. Alexandria Ocasio-Cortez, struck a far more conciliatory tone addressing 10,000-plus on the campus of the University of Michigan on Sunday night, saying, "In order for us to win, we have to grow."
"We must be inclusive. We must bring more people into this movement," she said, urging Sanders supporters to shed "cynicism and exclusion" and "turn with an embracing posture, where all people are welcome in a people's movement."
Sanders is hoping to do well in Washington state on Tuesday, but could face hurdles in Mississippi and Missouri. Sanders' team acknowledges he will also struggle in next week's Florida primary, where the senator's past defense of Fidel Castro looms large. He also could face long odds in Ohio and Illinois — especially if he underperforms in Michigan. Both of those states also vote March 17.
The wild card next week could be Arizona, where Sanders will be counting on strong Latino support, which lifted him to victory in California.
MARCH 10 PRIMARY PRIMER: THE STATES AND THE STAKES
The intricate arithmetic of how delegates are won makes it possible Tuesday for a winning candidate to reap a bigger haul of delegates with a smaller margin of victory than any other night. This gives Biden an opportunity to greatly increase his lead over Sanders or for Sanders to close the gap.
Delegates are mostly awarded proportionally in congressional districts. And nearly two-thirds of Tuesday districts have an odd number of delegates up for grabs.
When there is an odd number of delegates available, that means one of the two candidates will get more delegates. In districts with an even number of delegates, proportional distribution means that in close races, both candidates get the same number of delegates and that makes it more difficult for Sanders to catch Biden. After March 17, most delegates are in districts with an even number of delegates.
Monday's Sanders Fox News Town Hall was the eleventh town hall of the current election season hosted by Fox News and the tenth with a Democratic presidential candidate. FNC's first town hall with Sanders holds the record for the most-watched town hall of the 2020 election cycle with nearly 2.6 million viewers.
Recent Fox News town halls were held with then-Democratic presidential candidates Mike Bloomberg and Sen. Amy Klobuchar, both co-moderated by Baier and MacCallum, as well as former Mayor Pete Buttigieg, moderated by Chris Wallace.
Fox News' Brian Flood and The Associated Press contributed to this report.