Without any Republican support, the House on Wednesday night voted to impeach President Trump for "abuse of power" and "obstruction of Congress" related to his dealings with Ukraine, making Trump the third American president ever to be impeached.
The separate votes on the two counts teed up an all-but-certain Senate acquittal, should House Democrats forward the charges to the GOP-controlled chamber. They also fulfilled a promise made by some Democrats ever since Trump's inauguration to impeach him, even as polls have shown support for impeachment declining.
But, late Wednesday, House Speaker Nancy Pelosi, D-Calif, floated the possibility that the House would not send the articles of impeachment to the Senate, where Majority Leader Mitch McConnell, R-Ky., likely would oversee a strong defense of the president that could prove politically damaging for vulnerable Democrats.
"We'll make a decision… as we go along." Pelosi told reporters, adding that "we'll see what the process will be on the Senate side."
"We have acted," Pelosi continued, repeatedly refusing to commit to sending the articles of impeachment to the Senate. "Now, they'll understand what their responsibilities are, and we'll see what that is."
In 1998, after the impeachment of Bill Clinton, the House sent the charges off to the Senate within minutes. This time around, the House may want to hold onto the articles as leverage to extract concessions from Senate Republicans — or to bury impeachment as it proves increasingly unpopular among moderates in key battleground states.
Pelosi insisted that Republicans would need to run a fair trial if the matter made its way to the Senate, without explaining what exactly she was seeking. Republicans, including McConnell, this week condemned Democrats for rushing to impeach and rejected the idea that they would do Democrats' work for them in the Senate.
McConnell openly embraced his role as a partisan, saying House Democrats had paid only superficial lip service to the idea of fairness — even as they allowed a trove of hearsay evidence against the president, barred several proposed GOP witnesses, conducted hearings out of the public view, called a series of left-wing law professors to testify about their feelings on Trump, and prejudged the case publicly for months.
Meanwhile, conservative commentators slammed any delay in the Senate trial as crass partisan gamesmanship, noting that just this past March, Pelosi had vowed that impeachment would need to be a bipartisan effort. In the end, the only bipartisan aspect of the impeachment process was that a handful of Democrats joined Republicans to oppose it. All Republicans opposed both articles of impeachment.
That said, this special resolution which the House must approve is considered "privileged," meaning that if any member wants to call up a vote to transfer it to the Senate, that must happen right away. But, the House can continue to hold onto the articles of impeachment if the resolution were defeated.
The historic impeachment votes were tallied as Trump was holding a rally on friendly turf in frigid downtown Battle Creek, Mich., where thousands lined up hours in advance — with some reportedly sleeping in tents beginning Tuesday night so that they could guarantee a seat.
"By the way, it doesn't really feel like we're being impeached," Trump said at the rally. "The country is doing better than ever before. We did nothing wrong."
He added, to cheers: "We didn't lose one Republican, and three Democrats voted for us. The Democrats always stick together. Now think of it three Democrats went over to our side, no Republicans, it's unheard of."
Pelosi and House Democrats, Trump said, had "branded themselves with an eternal mark of shame," and were on a "political suicide march."
"I don't know about you, but I'm having a great time," Trump said. "I'm not worried."
"By the way, it doesn't really feel like we're being impeached."

— President Trump
The White House, in a statement, said Democrats had denied Trump "fundamental fairness and due process under the law," and added that Trump was "confident the Senate will restore regular order, fairness, and due process, all of which were ignored in the House proceedings."
"Today marks the culmination in the House of one of the most shameful political episodes in the history of our Nation," the White House said. "Without receiving a single Republican vote, and without providing any proof of wrongdoing, Democrats pushed illegitimate articles of impeachment against the President through the House of Representatives.  Democrats have chosen to proceed on this partisan basis in spite of the fact that the President did absolutely nothing wrong.  Indeed, weeks of hearings have proved that he did nothing wrong."
The vote total on the abuse-of-power count was 230-197, with Hawaii Democratic Rep. Tulsi Gabbard voting present. The obstruction vote total was 229-198, with Gabbard also voting present on that count too.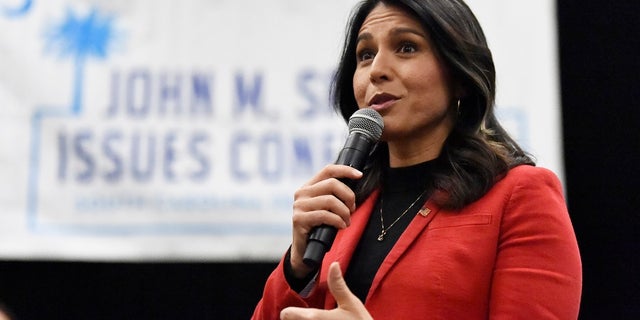 Democratic presidential candidate U.S. Rep. Tulsi Gabbard voted present on each article of impeachment, saying the process was a partisan sham.
In a statement, Gabbard called for a censure resolution instead of impeachment, saying, "My vote today is a vote for much needed reconciliation and hope that together we can heal our country."
"I also could not in good conscience vote for impeachment because removal of a sitting President must not be the culmination of a partisan process, fueled by tribal animosities that have so gravely divided our country," Gabbard said.
"When I cast my vote in support of the impeachment inquiry nearly three months ago, I said that in order to maintain the integrity of this solemn undertaking, it must not be a partisan endeavor," she continued. "Tragically, that's what it has been."
GABBARD STUNS BY VOTING 'PRESENT' ON IMPEACHMENT, SLAMS PARTISAN SHAM
Democratic Reps. Jeff Van Drew of New Jersey and Collin Peterson of Minnesota opposed the abuse-of-power count, and also opposed the obstruction charge. Peterson represents a district that Trump carried in 2016 by an eye-popping 31 points.
First-term Maine Democratic Rep. Jared Golden, who flipped a GOP seat in 2018, voted yea on abuse of power count, but voted no on the obstruction-of-Congress count. Trump also carried Golden's district in 2016.
READ IT: TRUMP UNLOADS ON PELOSI IN LETTER, ACCUSES HER OF VIOLATING OATH OF OFFICE
In his closing remarks late Wednesday, which were punctuated by cheers from his colleagues, House Minority Leader Kevin McCarthy, R-Calif., argued that Democrats "and many in the media" have long been trying to get rid of Trump for partisan reasons.
"After 3 years of breathless and baseless outrage, this is their last attempt to stop the Trump presidency," McCarthy said. "Speaker Pelosi even recently admitted that Democrats had been working on this impeachment for 'two and a half' years. Those were her words, not mine."
He added: "Will we let impeachment become an exercise of raw political power, regardless if it damages our country? Or will we protect the proper grounds and process for impeachment now and in the future?" he asked.  "Because they lost to him in 2016, they'll do anything to stop him in 2020."
Debate on the articles broke down into a shouting match early in the afternoon, when House Judiciary Committee Jerry Nadler, D-N.Y., accused a GOP congressman of "spouting Russian propaganda on the floor of the House."
Nadler's unsubstantiated remark drew an immediate rebuke from its target, Texas Republican Rep. Louie Gohmert, who returned to the floor to shout at Nadler even as his microphone was turned off and he was not recognized to speak.
Gohmert had been arguing that Democrats' partisan impeachment effort meant that the country's "end is now in sight" and that he hopes he doesn't "live to see it." No House Republicans support impeachment.
It was a long-brewing moment of frustration, as Republicans openly cast doubt on Democrats' claims that they were driven by an earnest desire to protect U.S. national security and the Constitution. At the outset of the proceedings, Pelosi claimed Democrats have "no choice" but to impeach the president, and that they were in reality quite saddened.
Despite Pelosi's claim, photographs emerged apparently showing Democratic staffers partying on Capitol Hill as the impeachment debate went on.
After the first article of impeachment was adopted, Pelosi had to signal to some Democrats to stop clapping. One Democrat yelled, "yay," but covered his mouth when he realized he was the only one.
And, as McCarthy argued in his closing address, other top Democrats have long encouraged their colleagues to impeach the president — including Michigan Rep. Rashida Tlaib, who promised on video to "impeach the motherf—er" all the way back in January.
As he prepared to head to the Michigan rally, Trump voiced his frustration with the process unfolding on Capitol Hill.
"Can you believe that I will be impeached today by the Radical Left, Do Nothing Democrats, AND I DID NOTHING WRONG!" Trump wrote in one of 45 tweets posted before noon. He asked his followers to "Say a PRAYER!"
In a letter to Pelosi on Tuesday, Trump accused Pelosi of violating her oath of office, and declared that history would prove Democrats had overreached.
Concerning the obstruction-of-Congress impeachment count, Trump attacked Democrats for "trying to impeach the duly elected President of the United States for asserting Constitutionally based privileges that have been asserted on a bipartisan basis by administrations of both political parties throughout our nation's history."
TRUMP ASSERTS THAT PELOSI'S FALSE TEETH WERE 'FALLING OUT' MID-PRESS CONFERENCE
And, regarding the abuse-of-power charge, Trump noted that it was former Vice President Joe Biden who had "bragged" on video about having Ukraine's allegedly corrupt prosecutor fired by threatening to withhold $1 billion in critical U.S. aid. But, House Republicans have been barred by Democrats from calling witnesses that would help them make the case that Trump's concerns about Ukraine corruption were legitimate.
"More due process was afforded to those accused in the Salem Witch trials," Trump wrote, observing that even Ukrainian President Volodymyr Zelensky has repeatedly said at the United Nations that he felt no pressure from the White House to conduct political investigations in exchange for military aid.
Later, en route to the event in downtown Battle Creek, Mich., Trump told reporters he felt good.
(All day Wednesday, the Senate was confirming conservative judges to lifetime appointments on the federal court, at an unusually rapid pace.)
The day was marked with some unexpected parliamentary curveballs. Shortly after the House gaveled in at 9 a.m., one GOP member forced a vote on whether to adjourn — requiring lawmakers to head to the floor before the debate even started.
"I just moved for the House to adjourn so that we can stop wasting America's time on impeachment," tweeted Rep. Andy Biggs, R-Ariz. "Republicans stand united against this radical, vindictive, partisan sham by the Democrats."
The ill-fated motion kicked off what proved to be a long day in the deeply divided House — and there were fireworks outside the Capitol, too. Several hundred people protested in the chilly December cold in favor of impeachment and removing Trump from office, following more than 600 anti-Trump rallies across the country Tuesday evening.
Immediately after Biggs' motion to adjourn was defeated Wednesday, McCarthy offered another privileged resolution to condemn the way Intelligence Committee Chairman Rep. Adam Schiff and Nadler handled the impeachment hearings.
That motion set off another round of voting. GOP Whip Steve Scalise, R-La., then stood up raising a "point of order" alleging the Democrats have violated the rights of the minority. The effort was dismissed by the presiding speaker Rep. Diana DeGette, D-Colo.
More than an hour later, House Democrats finally moved forward on debating the rules of the impeachment.
"The evidence is as clear as it is overwhelming," said Rep. Jim McGovern, D-Mass. "If a president undermining our national security and using the federal government for his own selfish personal gain is not impeachable conduct then…I don't know what is."
But GOP Rep. Tom Cole, R-Okla., shot back immediately.
CLICK HERE TO GET THE FOX NEWS APP
"If we're really being honest, Democrats have been searching for a reason to impeach President Trump since the day he was elected," Cole said.
On Thursday, business will return partially to normal, as the House will take up the USMCA — the president's signature foreign policy achievement on trade, which has been delayed for weeks amid the impeachment drama.
Fox News' Chad Pergram, Adam Shaw, Sarah Tobianski, Jason Smith, and The Associated Press contributed to this report.