A woman has been charged with attempted homicide in the stabbing of NFL wide receiver Terrelle Pryor at his Pittsburgh apartment early Saturday morning.
Pryor, 30, was reportedly at his Heinz Lofts apartment when he was stabbed in the shoulder and chest.
Pryor, who was also charged in the case, was taken to a hospital around 4:30 a.m. following a dispute with "mutual combatants" in an apartment on the city's North Side, police said.
OHIO STATE'S CHASE YOUNG RETURNS FROM SUSPENSION, SETS SCHOOL SINGLE-SEASON SACK RECORD
Allegheny County prosecutors and police said 24-year-old Shalaya Briston of Munhall was charged with attempted homicide and aggravated assault, while Pryor faces a charge of simple assault.
Although he was initially said to be in critical condition, NFL Network's Ian Rapoport reported Saturday afternoon that Pryor is now stable, citing a source.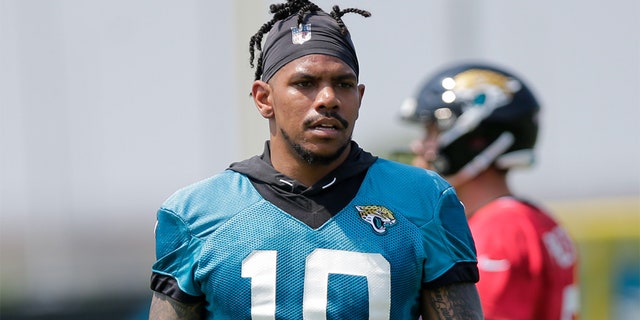 Terrelle Pryor earlier this season with the Jacksonville Jaguars.
(Getty)
ESPN's Jeremy Fowler tweeted that a close family friend of Pryor's told him the family expects him to survive, adding: "Several family members are by his side post-surgery as doctors monitor his progress".
Josina Anderson, also of ESPN, had said that Pryor was out of surgery and detectives were waiting to speak to him when he fully wakes up.
NEW YORK JETS' JAMAL ADAMS GETS INTO TWITTER SPAT WITH BROTHER OF RAIDERS' DEREK CARR
Pryor was the starting quarterback for the Ohio State Buckeyes from 2008 to 2010, winning the Big Ten championship twice. He was subsequently drafted by the Oakland Raiders in the third round of the 2011 NFL Supplemental Draft, playing quarterback before eventually switching positions when he signed with the Cleveland Browns in 2015.
CLICK HERE FOR THE FOX NEWS APP
He has also played for the Washington Redskins and New York Jets, among other teams. He is currently a free agent after he was released by the Jacksonville Jaguars in September